Graeme MacQueen and Laurie Manwell are prominent researchers in the national 9/11 Truth movement, seeking to educate the public regarding the facts of September 11, 2001 and calling for a new and independent investigation. Graeme MacQueen is founder of the Centre for Peace Studies at McMaster University and now a retired professor from that university. Laurie Manwell is a professor at Guelph University in Neuroscience and Applied Cognitive Sciences. MacQueen and Manwell were in Bloomington for a public presentation called "Peace Through Truth: 9/11 and State Crimes Against Democracy". During their visit they sat down with local 9/11 Truth advocate Byron Bangert for an exploration of fact vs. fiction and how fear colors our perceptions.
Stephen Webster | Raw Story.com 
Boy told undercover agents he could get a gun because he's a "rapper"; authored article containing "jihad" workout tips
An Somali-born, American teenager was apparently set up by federal law enforcement officials who posed as radical Islamic fighters and lured the young man into a plot he believed would lead him to detonate a car bomb at an Oregon Christmas tree lighting ceremony.
The bomb, provided by FBI agents, was "inert" and did not pose a threat to public safety, according to the US Attorney's Office in Oregon.
Oddly enough, Arthur Balizan, an FBI agent in Oregon, contradicted the US Attorney's Office, suggesting that the threat posed by 19-year-old Mohamed Osman Mohamud "was very real."
Except: "[At] every turn," he explained, "we denied him the ability to actually carry out the attack."
The story rings devastatingly familiar when stacked next to the tale of Hosam Maher Husein Smadi, a Jordanian man arrested in 2009, at age 19, for allegedly planning to detonate a car bomb in a Dallas skyscraper.
Each boy was led down the path to imagined violence by federal agents, with authorities ultimately providing fake bombs in both cases. Smadi and Mohamud, officials claim, expressed a desire to engage in terrorist attacks before agents began luring them in.
 The Economic Times.comSome two years before 9/11, American diplomats based in Pakistan wanted the US to step up propaganda war against al-Qaeda chief Osama bin Laden , a confidential US cable released by WikiLeaks has said. 

"We frequently hear reports that some in the lower middle and lower classes, both urban and rural, consider UBL (Usama bin Laden) an 'Islamic Hero', because the US has named him "Public Enemy Number One". 

That said it's our impression that the majority of Muslims, at least in Pakistan, do not necessarily support this view. 

The pending distribution of UBL "wanted" posters and matchbooks in Pakistan may increase UBL's stature as a kind of folk hero," said a State Department cable dated January 26, 1999. The diplomatic cable urged US to consider a new raft of anti-Bin Laden propaganda through the Voice of America radio station, interviews with Bin Laden victims, "commissioned articles" in the local press and an anti-Bin Laden website. 

"Although that would appear to be counterintuitive – that the masses don't use the internet – almost all Islamic and Islamist groups do indeed have internet access and use it extensively," it said.  (more…)
Original interviews with Noam Chomsky, Howard Zinn, Rebecca Lemov ("World as Laboratory"), Christopher Simpson ("The Science of Coercion"), George Ritzer ("The McDonaldization of Society"), Morris Berman ("The Reenchantment of the World"), John Taylor Gatto ("Dumbing us Down"), Alfie Kohn ("What does it mean to be well educated?") and others.

Some of the images contained in the film have never been seen before outside of a university laboratory, or in some cases a single television broadcast, and were purchased at great expense for a blue collar joe like me. These include an NBC clip from 1974 describing some of the CIA's MKULTRA experiments on children.

Full film can be viewed here –

http://metanoia-films.org/humanresources.php
Stephen WEbster | Raw Story.com 
It's too early to say for sure, but Oregon Senator Ron Wyden could very well go down in the history books as the man who saved the Internet.
A bill that critics say would have given the government power to censor the Internet will not pass this year thanks to the Oregon Democrat, who announced his opposition during a recent committee hearing. Individual Senators can place holds on pending legislation, in this case meaning proponents of the bill will be forced to reintroduce the measure and will not be able to proceed until the next Congress convenes.
Even then, its passage is not certain.
The Combating Online Infringement and Counterfeits Act (COICA) would have permitted a blanket takedown of any domain alleged to be assisting activities that violate copyright law, based upon the judgment of state attorneys general.
Daniel Tencer | Raw Story.com
Fewer than one in 10 Afghans are aware of the 9/11 attacks and their precipitation of the war in Afghanistan, says a study from an international think tank.
A report (PDF) from the International Council on Security and Development (ICOS) shows that 92 percent of those surveyed had never heard of the coordinated multiple attacks on US soil on September 11, 2001. It also shows that four in 10 Afghans believe the US is on their soil in order to "destroy Islam or occupy Afghanistan."
To be sure, the survey can't claim to be definitive: It only canvassed men, and relied primarily on respondents from Helmand and Kandahar, the two most war-torn provinces in the country. But the results nonetheless show that Western forces fighting insurgents in Afghanistan have largely failed to connect with the local population.
"We need to explain to the Afghan people why we are here, and both show and convince them that their future is better with us than with the Taliban," ICOS lead field researcher Norine MacDonald said in a statement.
http://buildingwhat.org. Bob McIlvaine and Tony Szamboti appear on Geraldo to discuss the BuildingWhat? campaign for a new investigation into the destruction of Building 7.
A sad scene from what appears to be the night of 9/11 as rescue workers work tirelessly looking for survivors and their fellow firefighters who were in the buildings during their destruction.
At the 6:58 mark there seems to be a very bright glow. It appears to be molten metal in the mid-ground of the camera frame once the camera zooms in.
Amazingly, after 220 stories of buildings "collapsed" into the streets right below, the streets were quite walkable for the rescue personnel. Shouldn't there be a massive pile of a building, TIMES 2?
RAW NIST FOIA Cumulus Release #14 WNBC Dub 4 Clips 24-76 in order combined.
Support the efforts of the International Center for 9/11 Studies, they are currently trying to receive more RAW data via FOIA requests.
Thousands of rescue workers sickened after the September 11 attacks in New York have until the end of Monday to accept a settlement that could near 800 million dollars.
A settlement on Friday saw a subgroup of workers compensated 28 million dollars for exposure to debris removed and transferred from Ground Zero to Staten Island by marine transportation company Weeks Marine.
But US District Court Judge Alvin Hellerstein said in a related order that the plaintiffs could only claim compensation for it if they backed the larger agreement for up to 712.5 million dollars.
That settlement with New York City was reached in June and requires approval from 95 percent of the plaintiffs by 11:59 pm (0459 GMT) on Monday in order to be validated.
The proposed funds would be used for payments to the roughly 10,000 firefighters, health workers, police and other emergency responders who sought legal remedy after falling ill from toxic dust and debris emanating from the destroyed World Trade Center nine years ago.
Eli Rika | AE911 Truth.org 
Over the last century, the most astounding historical discoveries of man-made artifacts have often been accomplished by well-funded, highly experienced researchers.
From the excavation of King Tut's tomb to the sighting of the sunken Titanic, stunning finds have required immense financial and human resources, as well as leadership by distinguished explorers. So, how did a mountain of never-before-seen footage used in NIST's World Trade Center investigations get exposed to the light of day last month?
Was it the work of a billionaire adventurer? Not quite.You can thank an upstart non-profit, the International Center for 9/11 Studies, whose efforts have at last borne fruit.The International Center for 9/11 Studies was founded in 2008 by Director James Gourley, a Texas lawyer who began questioning the events of 9/11 after watching a presentation given by David Ray Griffin on C-SPAN."I was just floored by what I was hearing," Gourley explained, "and I've been looking into 9/11 ever since then."
Morningland Dairy is being forced out of business by an out of control FDA and Missouri State Milk Board. Help stave off this illegal attack by these devils in government by helping support their business:
Family Farm Ordered to Destroy 50,000 Pounds of Cheese
Food Politics | October 11, 2010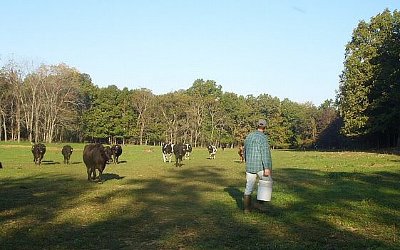 Reality? Reason? Nah, We've got Regulatory Authority!
by Guest Blogger, ©Doreen Hannes 2010
Morningland Dairy is the latest attempt by the FDA to fulfill the Healthy People 2020 objective to kill raw dairy. Morningland is owned by Joseph and Denise Dixon, who operate the cheese plant and make raw cheese from cows kept right on the property and managed by one of their eldest daughters. They have 12 children, 4 who still live at home, and they have been actively engaged in real food for decades. They were caught up in the Rawesome Raid dragnet and many believe the questionable California Dept of Food and Agriculture tests on their cheese are the legal justification for the multi-agency guns drawn raid at Rawesome.
Farm's Perfect Safety Record Matters Not to Authorities
In the thirty years of Morningland Dairy operations NO ONE has become ill from consuming their products. Yet they have been ordered by the Missouri Milk Board to destroy ALL of their cheese without actual tests being performed on the cheese stock. This is nearly 50,000 pounds of cheese, or approximately $250,000.
Since the Milk Board and the FDA showed up at Morningland on August 26th, they have been "embargoed" from shipping or making any product. They dumped their milk for nearly six weeks before being approved to send it into homogenized, pasteurized distribution. All the while, they have had to pay the bill to keep the dairy and cheese plant operable.
On September 24th, the Milk Board verbally ordered Morningland to destroy their product. Morningland asked that this order be put in writing. One week later the order was hand delivered to General Manager/owner, Joseph Dixon. The order states that in three business days the Milk Board would contact them with when and how the cheese was to be destroyed.
Morningland Rebuts the Destroy Order and Offers a Solution
Morningland dared to publish a written objection to committing suicide, a rebuttal and proposed remedy. They rebutted many of the stated "facts" in the 10-page order, Destroy Orders: Morningland Dairy. The Morningland Dairy then offered a reasonable, logical, scientifically sound remedy to destruction on the afternoon of October 6th.

Gov't Pushes Forward to Destroy Cheese, and Farm
The next morning, they were served with a restraining order and preliminary injunction by the Attorney General's office of Missouri. They were to be in court the very next day. In sum, they were ordered to destroy their wealth on Friday, asked for logic and justice on Wednesday, notified they were being sued on Thursday and ordered to be in court on Friday.
At 4:50pm on Thursday, the Attorney General's office called and canceled court because one or two of their witnesses couldn't attend. Never mind that a family run dairy and cheese plant with 9 families making a living through it should mount a legal defense against destruction in one day. It's another raid using Gestapo legal tactics that fit the MO of the FDA and their minions….or sub agents, if you prefer.
As readers of this blog and those in the real food movement know, the FDA has a mission. They have blatantly stated that you have no right to consume foods of your choice, and the FDA Plant and Dairy head has a documented Howard Hughes like fear of raw dairy. They are happy to use their resources to "protect" you from consuming things that don't make any one ill. They've reduced science to superstition. If they get more power through S.510, they will regulate the family farm and real food to death and give you Cheez Whiz and Twinkies as government approved food.
To fight for your right to choose what you want to eat, Morningland must be able to go on the offense. They are willing to sacrifice everything they have worked for to stand for your ability to eat real food.
Friends of Morningland have put up a website, The Uncheese Party. They are asking supporters to sponsor a cheese to help the family out financially.
For as little as $5 you can tell the FDA and their minions that you are smart enough to decide what you want to eat and don't need their permission or "help" to figure out what is "good for us". This battle must be won.
Get more info at our Meetup
http://www.meetup.com/seattlechange/calendar/15307669/?from=list&offset=0
November 20th, 3pm
Location
Shoreline Library
345 NE 175th St
Seattle, WA 98155
The Chemtrail/Geo-Engineering Coverup Revealed.
By now everyone has seen crisscrossing streaks of white clouds trailing behind jet aircraft, stretching from horizon to horizon, eventually turning the sky into a murky haze. Our innate intelligence tells us these are not mere vapor trails from jet engines, but no one yet has probed the questions: who is doing this and why. With the release of this video, all of that has changed. Here is the story of a rapidly developing industry called geo-engineering, driven by scientists, corporations, and governments intent on changing global climate, controlling the weather, and altering the chemical composition of soil and water — all supposedly for the betterment of mankind. Although officials insist that these programs are only in the discussion phase, evidence is abundant that they have been underway since about 1990 — and the effect has been devastating to crops, wildlife, and human health. We are being sprayed with toxic substances without our consent and, to add insult to injury, they are lying to us about it. Do not watch this documentary if you have high blood pressure.
More info at our Meetup
November 9th, 4PM
Holding banners on the NE 45th St. overpass on I-5.
The weather may be too yucky, so make sure you visit the Meetup and RSVP if you are interested and I will keep you updated and email at least a day before if we will cancel due to weather.
Come on out, it will be a blast.
Location
Mac Store parking lot
815 NE 45th St
seattle, WA 98105
AE911Truth's EXCLUSIVE INTERVIEW! Chemist Niels Harrit – One of the scientists who found thermite in the World Trade Center dust discusses Thermite,Nanothermite,Explosives and Incendiaries. This interview is some raw footage of one of the world class experts appearing in Architects and Engineer's upcoming hard hitting documentary "9/11: Explosive Evidence – Experts Speak Out"
The 2010 Colorado Democratic Party platform (page 31/54), approved by the 146 member platform committee states:
"Whereas many disturbing facts were consciously ignored by the 9/11 Commission; Be it resolved, therefore, that the CDP calls for the establishment of a truly independent Grand Jury and public investigation into these and other anomalies in order to find the truth of the September 11, 2001 attacks, so that we have a greater probability of preventing attacks of this nature in the future."
This controversial plank was added to the State Democratic Party Platform after evidence supporting the critical need for a new investigation was presented at several caucuses in 2004, 2008, and 2010.
The citizens who presented arguments for a new investigation at their precinct caucuses are signatories to the Architect and Engineers for 9/11 Truth organization (www.ae911truth.org) which calls for a new investigation into the events of September 11, 2001.
The quality of evidence contradicting the official 9-11 story is substantiated in part by the 2010 Platform Committee Chairman Hal Bidlack's statement: " ….this platform represents the consensus of the 2010 Platform Committee, guided by the results of county assemblies across our state. The folks who worked tirelessly on the Committee can rightly be proud of their efforts, and deserve our special thanks." (Bidlack's statement can be found on page one of the 2010 platform.)
(more…)