Tom Wright | Wall Street Journal
Pakistan is investigating the possible involvement of two ex-army officers and four other militants in the 2008 attacks on Mumbai based on new information provided to it by India, according to a senior Pakistani government official. But it denies India's assertions that Pakistan's military spy agency orchestrated the strike.
Those claims of involvement in the Mumbai attacks by Pakistani intelligence were made by a senior Indian government official last week on the eve of a much-heralded peace summit between the two nations' foreign ministers. Speaking to a local newspaper, Home Secretary G.K. Pillai said New Delhi's questioning of David Headley, a Pakistani-American citizen involved in the Mumbai attacks, had provided evidence that Pakistan's Inter-Services Intelligence military spy agency orchestrated the killings.
His claims sparked a round of mutual recriminations that cast a pall over efforts to reduce tensions between the nuclear-armed South Asian neighbors.
India's National Security Advisor, Shivshankar Menon, reiterated India's concerns Tuesday that links between Pakistan's "establishment"—a term for its powerful military and spy agencies rather than the civilian government—and Islamist terrorists were strengthening.
"That nexus makes it a harder phenomenon for us to deal with," Mr. Menon said in a speech to a terrorism conference in New Delhi. He stopped short of saying the Pakistani state was involved in the attacks on Mumbai, during which 10 Pakistani gunmen left more than 160 people dead in a three-day killing spree in India's financial capital.
India suspended peace talks with Pakistan after those attacks but restarted them in February this year. It has argued Pakistan must bring the perpetrators to justice until talks move on to a wider range of issues, including the disputed Himalayan territory of Kashmir.
(more…)
Robert Reid | MSNBC.com
The strategy sits for now on a table in a locked-down Afghan capital: Hand over security in all 34 provinces to the government by the end of 2014 — more than three years after President Barack Obama's date for the start of an American troop drawdown.
By Tuesday, it will be adopted at a one-day international conference , giving war-weary Americans and Europeans a date for when their involvement in Afghanistan may begin to come to an end. It will also give President Hamid Karzai a chance to show whether his struggling government is making progress toward running the country.
The conference comes at a time of growing anxiety in the U.S. and Europe about the course of the war — concerns underscored by Taliban attacks on Monday that killed six Afghan police and two American soldiers. A major security operation virtually shut down Kabul for the conference in which some 60 nations will focus on the postwar transition.
Afghan officials want the U.S. and other international donors to give them a greater say in spending the billions of dollars in aid and reconstruction funds that have flowed into the country since the war began in 2001 — often with only limited results and amid allegations of corruption and mismanagement that have bolstered the Taliban in the eyes of many ordinary Afghans.
Lofty goals
David Stringer | AP – Google
British and U.S. intelligence had no credible evidence of a link between Saddam Hussein and the Sept. 11, 2001 attacks on the United States before the 2003 Iraq invasion, the ex-head of Britain's domestic spy agency told the country's inquiry into the war Tuesday.
Eliza Manningham-Buller, director of the MI5 between 2002 and 2007, said that nothing to connect the attacks to Baghdad was discovered ahead of the 2003 invasion of Iraq.
The ex-spy chief also said the war caused allies to lose focus on the al-Qaida threat in Afghanistan, emboldened Osama bin Laden and led to the radicalization of a generation of homegrown British extremists.
Manningham-Buller said those pushing the case for war in the United States gave undue prominence to scraps of inconclusive intelligence on possible links between Iraq and the 2001 attacks, singling out the then-U.S. Defense Secretary Donald Rumsfeld.
"There was no credible intelligence to suggest that connection and that was the judgment, I might say, of the CIA," she told the inquiry. "It was not a judgment that found favor with some parts of the American machine."
She suggested the dispute led Rumsfeld to disregard CIA intelligence in favor of work produced by his own department.
"It is why Donald Rumsfeld started an alternative intelligence unit in the Pentagon to seek an alternative judgment," said Manningham-Buller, who was a frequent visitor to the U.S. as MI5 chief.
"To my mind, Saddam Hussein had nothing to do with 9/11 and I have never seen anything to make me change my mind," she said.
More Info at our Meetup 
 August 4th, 7PM.
Dr. Bowman ran for president as a Reform Party candidate, and for US Congress from Florida as a Democrat (where he won over 40% of the vote). He is widely acknowledged to have a uniquely forceful message that appeals across the political spectrum. And he never backs away from the issue of 9/11 in his speeches. Here is an excerpt from his web site: www.thepatriots.us:
"The American people and the families of those who died on 9/11 deserve the truth, and we do not yet have it. The above are but a tiny fraction of the unanswered questions not even raised by those who "investigated" the 9/11 tragedy. The most unbelievable of all the conspiracy theories surrounding 9/11 is the OFFICIAL conspiracy theory told us by our government. The Kean-Hamilton-Zelikow commission report was a whitewash, a cover-up, and a bundle of deception. I have spoken to both Governor Kean and Congressman Hamilton, and they admit that they were lied to about why there was no intercept. If a new investigation discovers a wider conspiracy and identifies living people (American or foreign) as being responsible, they should be indicted for treason. And those who covered up the treason should themselves be indicted as accessories after the fact."
Tickets are $10., but no one will be turned away.Trinity United Methodist Church, 6512 23rd Av. NW in Seattle (Ballard)
Mark your calendars now for this important event.
Colonel Bowman is on tour and will also be in Bellingham on August 5th and Port Angeles on August 9th. Please check out the schedule here.
During the July 16, 2010 show, Alex Jones asked listeners to search for The Obama Deception on Google, Yahoo, and other major search engines in an effort to show the strength and influence of the patriot movement. You responded en masse and within two hours of putting out the call, The Obama Deception was the number one hot search topic on Google. This is a testament to the outstanding unity and great numbers of not only our audience, but the patriot movement as a whole. Thank you. This single effort will help to wake up hundreds of thousands more to the truth.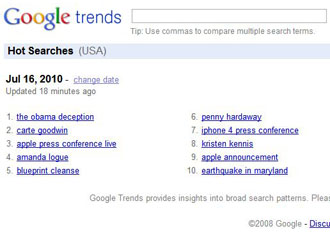 Though we did accomplish an amazing thing inside of a small period of time, it is up to you to keep this momentum up. Alex Jones is putting a call out to all patriots and friends of liberty. For the next week hours take 5 to minutes a day when you get online and type in "The Obama Deception" (or copy and paste) and make these searches over and over again then click through to the links. If everyone listening to this messages and then takes five minutes a day it will push the numbers of The Obama Deception off the charts. The main stream gate keepers cannot silence us. By utilizing search engine judo we can use their tools of mental control and distraction and wake up millions. Search The Obama Deception spread the word and lets take our country back from the globalist.
Apple today announced that they are offering free bumpers and even full refunds to consumers that have been experiencing ongoing signal strength issues with the 4th generation iPhone. Carte Goodwin has been appointed to replace Sen. Robert Byrd. This news fills the mainstream media but was shadowed by the immense response to the call for Obama Deception searches and tweets.
The power of the alternative media is in our hands.
Researchers discover a surprising threat to democracy: our brains
Joe Keohane | boston.com 
It's one of the great assumptions underlying modern democracy that an informed citizenry is preferable to an uninformed one. "Whenever the people are well-informed, they can be trusted with their own government," Thomas Jefferson wrote in 1789. This notion, carried down through the years, underlies everything from humble political pamphlets to presidential debates to the very notion of a free press. Mankind may be crooked timber, as Kant put it, uniquely susceptible to ignorance and misinformation, but it's an article of faith that knowledge is the best remedy. If people are furnished with the facts, they will be clearer thinkers and better citizens. If they are ignorant, facts will enlighten them. If they are mistaken, facts will set them straight.
In the end, truth will out. Won't it?
Maybe not. Recently, a few political scientists have begun to discover a human tendency deeply discouraging to anyone with faith in the power of information. It's this: Facts don't necessarily have the power to change our minds. In fact, quite the opposite. In a series of studies in 2005 and 2006, researchers at the University of Michigan found that when misinformed people, particularly political partisans, were exposed to corrected facts in news stories, they rarely changed their minds. In fact, they often became even more strongly set in their beliefs. Facts, they found, were not curing misinformation. Like an underpowered antibiotic, facts could actually make misinformation even stronger.
This bodes ill for a democracy, because most voters — the people making decisions about how the country runs — aren't blank slates. They already have beliefs, and a set of facts lodged in their minds. The problem is that sometimes the things they think they know are objectively, provably false. And in the presence of the correct information, such people react very, very differently than the merely uninformed. Instead of changing their minds to reflect the correct information, they can entrench themselves even deeper.
"The general idea is that it's absolutely threatening to admit you're wrong," says political scientist Brendan Nyhan, the lead researcher on the Michigan study. The phenomenon — known as "backfire" — is "a natural defense mechanism to avoid that cognitive dissonance."
Paul Joseph Watson | PrisonPlanet.com 
A former senior advisor to President Bill Clinton says that the only thing which can rescue Barack Obama's increasingly tenuous grip on power as his approval figures continue to plunge is a terror attack on the scale of Oklahoma City or 9/11, another startling reminder that such events only ever serve to benefit those in authority.
Buried in a Financial Times article about Obama's "growing credibility crisis" and fears on behalf of Democrats that they could lose not only the White House but also the Senate to Republicans, Robert Shapiro makes it clear that Obama is relying on an October surprise in the form of a terror attack to rescue his presidency.
"The bottom line here is that Americans don't believe in President Obama's leadership," said Shapiro, adding, "He has to find some way between now and November of demonstrating that he is a leader who can command confidence and, short of a 9/11 event or an Oklahoma City bombing, I can't think of how he could do that."
Shapiro's veiled warning should not be dismissed lightly. He was undersecretary of commerce for economic affairs dung Clinton's tenure in the Oval Office and also acted as principal economic adviser to Clinton in his 1991-1992 campaign. Shapiro is now Director of the Globalization Initiative of NDN and also Chair of the Climate Task Force. He is a prominent globalist who has attended numerous Bilderberg Group meetings over the past decade.
Shapiro is clearly communicating the necessity for a terror attack to be launched in order to give Obama the opportunity to unite the country around his agenda in the name of fighting terrorists, just as President Bush did in the aftermath of 9/11 when his approval ratings shot up from around 50% to well above 80%.
Alex Jones gives the inside scoop on basketball MVP LeBron James' pivotal trade decision… err, I mean, rather breaks down how society has become obsessed with celebrity culture and taken its eye off of important world events, allowing corruption and global domination to take root. While LeBron announces his move to Miami, the mindless sports fans of America have essentially ignored larger problems.
Here are people by the tens of thousands begging LeBron James to stay on their team, yet these same people won't go out and protest the looting of the Federal government, the banker-bailout or even the BP oil spill.
Yes, modern bread and circuses– endless ballgames, television and gossip about celeb birthday parties– has driven our culture to embrace the meaningless, while reducing our consciousness to mindless drivel. America– once the greatest cradle of imagination and wealth has fallen to a land of virtual morons who look up to decadent system-icons instead of leaders who could drive our future to greatness once again.
An Open Letter to Terry Allen, Noam Chomsky, Alexander Cockburn, David Corn, Chris Hayes, George Monbiot, Matthew Rothschild, and Matt Taibbi
by David Ray Griffin
July 6, 2010
GlobalResearch.ca
According to several left-leaning critics of the 9/11 Truth Movement, some of its central claims, especially about the destruction of the World Trade Center, show its members to be scientifically challenged. In the opinion of some of these critics, moreover, claims made by members of this movement are sometimes unscientific in the strongest possible sense, implying an acceptance of magic and miracles.
After documenting this charge in Part I of this essay, I show in Part II that the exact opposite is the case: that the official account of the destruction of the World Trade Center implies miracles (I give nine examples), and that the 9/11 Truth Movement, in developing an alternative hypothesis, has done so in line with the assumption that the laws of nature did not take a holiday on 9/11. In Part III, I ask these left-leaning critics some questions evoked by the fact that it is they, not members of the 9/11 Truth Movement, who have endorsed a conspiracy theory replete with miracle stories as well as other absurdities.
I The Charge that 9/11 Truth Theories Rest on Unscientific, Even Magical, Beliefs
Several left-leaning critics of the 9/11 Truth Movement, besides showing contempt for its members, charge them with relying on claims that are contradicted by good science and, in some cases, reflect a belief in magic. By "magic," they mean miracles, understood as violations of basic principles of the physical sciences.
For example, Alexander Cockburn, who has referred to members of the 9/11 Truth Movement as "9/11 conspiracy nuts,"3 quoted with approval a philosopher who, speaking of "the 9-11 conspiracy cult," said that its "main engine . . . is . . . the death of any conception of evidence," resulting in "the ascendancy of magic over common sense, let alone reason."4 Also, Cockburn assured his readers: "The conspiracy theory that the World Trade Centre towers were demolished by explosive charges previously placed within them is probably impossible."5 With regard to Building 7 of the World Trade Center, Cockburn claimed (in 2006) that the (2002) report by FEMA was "more than adequate."6
Likewise, George Monbiot, referring to members of the 9/11 Truth Movement as "fantasists," "conspiracy idiots," and "morons," charged that they "believe that [the Bush regime] is capable of magic."7
Matt Taibbi, saying that the "9/11 conspiracy theory is so shamefully stupid" and referring to its members as "idiots," wrote with contempt about the "alleged scientific impossibilities" in the official account of 9/11; about the claim that "the towers couldn't have fallen the way they did [without the aid of explosives]"; of the view (held by "9/11 Truthers") that "it isn't the plane crashes that topple the buildings, but bombs planted in the Towers that do the trick"; and of "the supposed anomalies of physics involved with the collapse of WTC-7." He had been assured by "scientist friends," he added, that "[a]ll of the 9/11 science claims" are "rank steaming bullshit."8
Chris Hayes, writing in The Nation in 2006, did not stoop to the kind of name-calling employed by Cockburn, Monbiot, and Taibbi. Also, he knew, he admitted, of "eyewitness accounts of [people] who heard explosions in the World Trade Center." And he was aware that "jet fuel burns at 1,500 degrees Fahrenheit [whereas] steel melts at 2,500." He asserted, nevertheless, that "the evidence shows [a 9/11 conspiracy] to be virtually impossible," so that the 9/11 Truth Movement's conspiracy theory is "wrongheaded and a terrible waste of time."9
Noam Chomsky has also declared that the available facts, when approached scientifically, refute the 9/11 Truth Movement. Speaking of evidence provided by this movement to show that 9/11 "was planned by the Bush Administration," Chomsky declared: "If you look at the evidence, anybody who knows anything about the sciences would instantly discount that evidence."10 In spite of his dismissive attitude, however, Chomsky in 2006 gave some helpful advice to people who believe they have physical evidence refuting the official account:
"There are ways to assess that: submit it to specialists . . . who have the requisite background in civil-mechanical engineering, materials science, building construction, etc., for review and analysis. . . . Or, . . . submit it to a serious journal for peer review and publication. To my knowledge, there isn't a single submission."11
In These Times writer Terry Allen, in a 2006 essay entitled "The 9/11 Faith Movement," assured her readers that "the facts [do not] support the conspiracists' key charge that World Trade Center buildings were destroyed by pre-positioned explosives."12